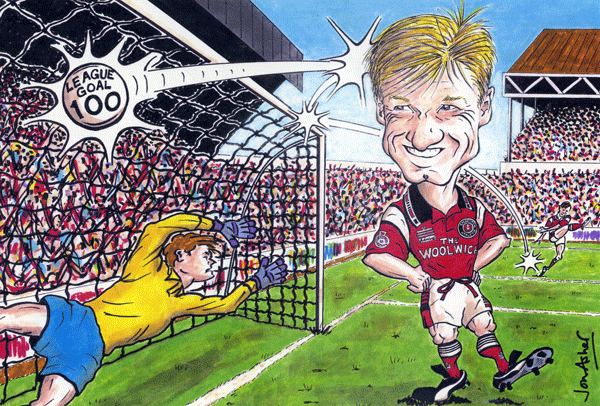 Garry Nelson - Caricature 12" x 8"
View all cartoons/caricatures Next >
Garry Nelson, Professional Footballer
A commission to caricature the professional footballer Garry Nelson, who played for Charlton Athletic, proved very interesting.
The brief was to depict his recent 100th professional league goal in the exact manner that he'd scored it. Apparently, this goal had been almost an accidental header, off the side of his head, after a free-kick from the right had rebounded from the crossbar!
I had to use pictures from old football programmes to capture his likeness and to get the detail on the kit right, and I chose to give it a bit of a 'Roy of the Rovers' feel. I was then asked to attend its surprise presentation to Garry, and was relieved to see he was very pleased with it and then had a good chat with him.
A few months later, Garry published a 'warts and all' book, called 'Left Foot Forward', about what life's really like as a 'typical' professional footballer, i.e. not one of the big superstars at top Premiership sides. It proved to be a big seller and won widespread acclaim.
Just after the book's launch though, a feature about Garry and his new book was televised just before the kick-off of a live football match (Charlton v Wolves). This was shown nationally on ITV one Sunday afternoon. The interview with Garry included a close-up of my caricature hanging on his study wall behind him, and all this was unbeknown to me at the time! However a friend, who happened to have videoed the programme, discovered it later and kindly provided me with a copy.
Incidentally, following the success of 'Left Foot Forward', Garry Nelson produced another, similarly-styled book a couple of years later. This was called 'Left Foot in the Grave', and was about his subsequent life as player-manager of a professional football team (Torquay United). Both of Garry's books are very insightful and great reads, and I would recommend them to anyone with an interest in football!