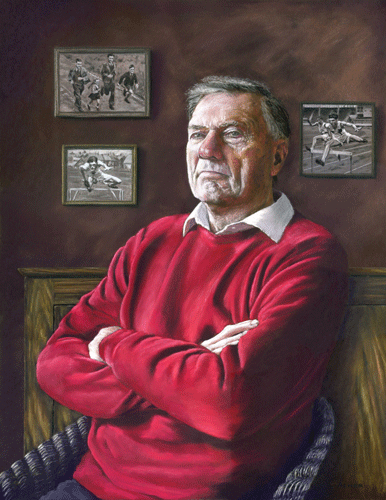 Joe Birrell – 1948 Olympian. Pastel, 24" x 19"
< Previous View all portraits Next >
Joe Birrell ran for Great Britain in the Mens' 110m Hurdles at the 1948 London Olympic Games.
He was only 18 and still at school at the time, and so became a bit of a folk hero in his home town of Barrow-in Furness.
This portrait depicts him sitting proudly in front of some old photos from those days. I felt it was important to try to reproduce these photos in the portrait as they help to tell us more about Joe's past. The photos show Joe:
jogging with his younger brothers and sister (who all went on to become noted sportspeople too) just after he was selected to run for the Olympics
training for the Olympics on his school's playing field
taking the lead in a race.
The piece of African olive wood furniture behind Joe serves as a symbol of his many happy years spent living in East Africa in the 1960s.